Oil-cooled cables
High-power liquid-cooled EV charging cable
Reference standard: IEC 62893-4-2
TUV Certificate No. R50569984
The products comply with IEC 62893-4-2 standard and certification for DC charging cables that meet the requirements of IEC 61851-1 mode 4 and are used with thermal management systems; these cables are intended for use in circuit-conductive charging systems with thermal management systems as specified in IEC 61851-23 and are intended for use in vehicle connectors that meet the requirements of IEC TS62196-3-1. The application mode of the cables is mainly used to connect electric vehicle charging devices to the charging infrastructure, thus providing fast power transmission to electric vehicles, and equipped with a certain number of signal and control lines to ensure accurate control and safe and error-free operation of the entire charging process. The cable use scenario is generally used in centralized charging stations, large parking lots, hotels, garages and other areas.
Product features: The cable structure is mainly composed of the main core of power supply, ground wire, signal wire or shield wire set, return pipe, filler and reinforcing rope combination. DC+ and DC- conductors are immersed in the cooling medium to take away heat through the medium and form a cooling circuit through the circulation of the return pipe, which eventually carries a larger current with a smaller conductor cross-section to achieve the effect of high-power fast charging; the product feels good, oil-resistant,acid-alkali-resistant, water-resistant and wear-resistant. Acid and alkali resistant, water resistant, wear resistant, crush resistant, crack resistant, UV resistant and flame retardant; all materials comply with RoHS 2.0 & REACH environmental standards. The products have applied for and obtained IEC standard product certification at TUV.
Product description:
| | |
| --- | --- |
| Construction | Features |
| 1.Conductor | 1.Rated temperature:-40℃~90℃ |
| Material: Bare Copper | 2.Rated Voltage:1500V.DC |
| 2.Insulation | 3.Flame Test: Testing method according to EN 60332-1-2 |
| Material: EVI-1 | 4.Min Bending Radius: ≥6*OD |
| 3.Filler | 5.Dielectric Voltage: 3.5kVac/15min.No Breakdown |
| Material: PP hemp or cotton yarn | 6.Cold Bending: -40℃/4h No cracks |
| 4.Tape | 7.Hot Shock: 150°C/1h No cracks |
| Material: Non-woven fabrics | 8.Oil Resistance: IRM902,100°C/168h Tensile and Elongation≥60% |
| 5.Sheath | 9.Crush Resistance: >11KN |
| Material: TPU | 10.Weather Resistance:720hin a xenon arc weatherometer, No cracks |
| Color: Black | 11.Environmental Requirements:Compliant with RoHS and REACH |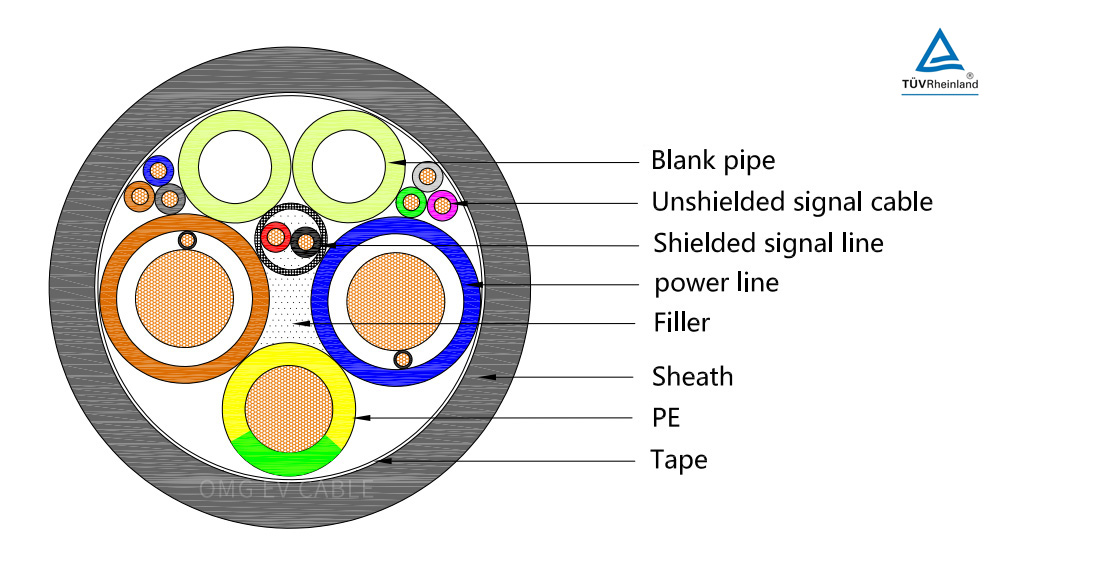 Type
Size
Conductor Stranded OD mm Ref.
Blank pipe mm Ref
Max. Conductor resistance Ω/Km@20℃
Permissible ampacity@20℃ ambient Ref.
Over diameter Ref. mm
Packing M/Reel (Ref.)
62893 IEC 129
2×16+25+n×(0.5-1.5)+Reflux tube
5.7/7.1
Ø6 or Ø8
<1.21/<0.78
/
Design structures according to standards or customer requirements
As per PO or agreement
2×25+25+n×(0.5-1.5)+Reflux tube
6.8/7.1
Ø8
<0.78
500A
2×35+25+n×(0.5-1.5)+Reflux tube
8.2/7.1
Ø8
<0.554/<0.78
600A
2×50+25+n×(0.5-1.5)+Reflux tube
10.2/7.1
Ø8 or Ø10
<0.386/<0.78
/

Note: 1. signal line range n = 0-10

2. the number of reflux tubes according to customer requirements

3. Cooling medium is defined by the client.
The above product specifications, sizes and structures may change due to technological advances, and similar specifications can be designed and manufactured according to customer usage requirements.
Instead of choosing an off-the-shelf cable, contact a design expert to ensure that your cable solution meets all your expectations. Email us: leo@omgevcable.com
400KW 500A liquid-cooled charging station application examples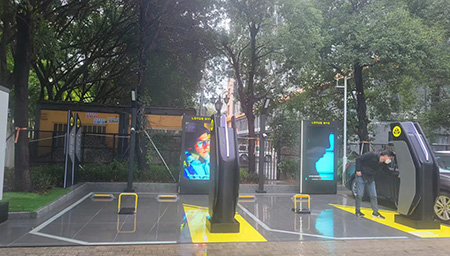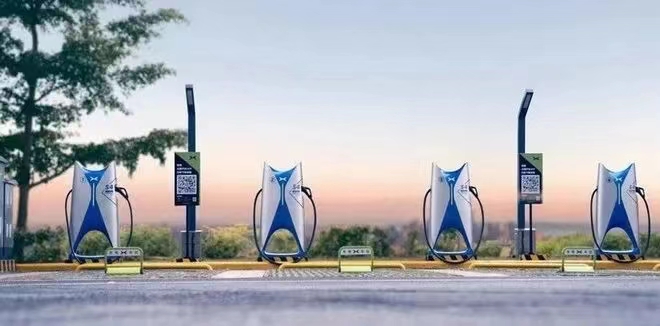 Advantages of liquid cooling
| | |
| --- | --- |
| high protection | Traditional air-cooled charging piles are generally designed with IP54 design. In dusty construction sites, high temperature, high humidity and high salt fog, seaside and other application scenarios have a high failure rate. Liquid cooling systems can easily achieve IP65 design to meet various harsh scenarios. |
| low noise | The liquid-cooled charging module can achieve zero noise, and the liquid-cooled charging system can adopt a variety of thermal management technologies, such as refrigerant heat exchange and water-cooled air-conditioning heat dissipation, with good heat dissipation effect and low noise. |
| Good heat dissipation | The heat dissipation effect of the liquid-cooled module is much better than that of the traditional air-cooled module. The internal key components are about 10 degrees Celsius lower than the air-cooled module. The lower temperature energy conversion efficiency is higher, and the life of the electronic components is longer. Heat dissipation can improve the power density of the module and apply a higher power charging module. |
| Easy to maintain | The traditional air-cooled charging system needs to regularly clean or replace the filter screen of the pile body, regularly dust the pile fan, remove the dust from the module fan, replace the module fan or clean the dust inside the module. Depending on different application scenarios, annual maintenance is required. 6 to 12 times, the labor cost is high, and the liquid-cooled charging system only needs to regularly detect the coolant and clean the dust on the radiator, which is greatly simplified into operation and maintenance work. |
| Low TCO | At present, there are few applications of liquid-cooled charging system, so the equipment cost is higher than that of traditional air-cooled system. However, from the perspective of equipment life cycle, the whole life-cycle cost of Ling-cooled system is lower than that of air-cooled system. |
| more convenient to charge | Under the same charging power, the outer diameter of the cable using liquid cooling is smaller, and the weight of the cable is reduced by 50%, making it easier and more convenient to use. |
| Charge faster | Using liquid-cooled charging is more efficient. The maximum charging cable of traditional air-cooled charging piles is 200A, while using liquid-cooled charging can provide up to 700A. |
Compared with air cooling, liquid cooling has better performance and higher cost. It will gradually become the mainstream trend of module cooling in the future.
The heat dissipation capacity of the liquid cooling module is 10~20℃ lower than that of the forced air cooling module, and the intelligent noise reduction control can meet the installation and use in noise-sensitive scenarios. The liquid cooling module also has a higher IP level of protection, which is suitable for applications in harsh scenarios such as heavy dust.
The difficulty of liquid cooling heat dissipation mainly lies in the sealing of coolant and cables.
Liquid cooling needs to set up a special circulation channel between the cable and the charging gun, add cooling liquid to the channel, and push the liquid circulation through the power pump to take out the heat to dissipate heat. However, the environment in which the charging pile is installed and used may face extreme weather, harsh environment and other factors. If the pipeline leaks due to poor cable sealing, it is easy to cause the cooling system to fail and cause accidents. Therefore, the liquid-cooled cables used need to pass the tests of high temperature resistance, corrosion resistance, blast resistance, weather resistance and low temperature resistance.
Comparison of heat dissipation performance between air cooling and liquid cooling
| | | |
| --- | --- | --- |
| Performance | Air cooling | Liquid cooled |
| Heat dissipation capacity | Restricted, use more charging modules below 30KW | Compared with the forced air cooling module, the temperature is 10~20 degrees Celsius lower, and it is suitable for charging modules above 30KW. |
| Noise control | Greater than or equal to 60 decibels (restricted for applications in residential areas and commercial areas) | less than or equal to 35 decibels |
| Protection class | IP20 | IP54 |
| Service life | 3-5 years | more than 10 years |
| Operation and maintenance | 3-6 times/year | no need |
| Technical Difficulties | Noise, heat dissipation performance | cable seal |
Related product recommendation